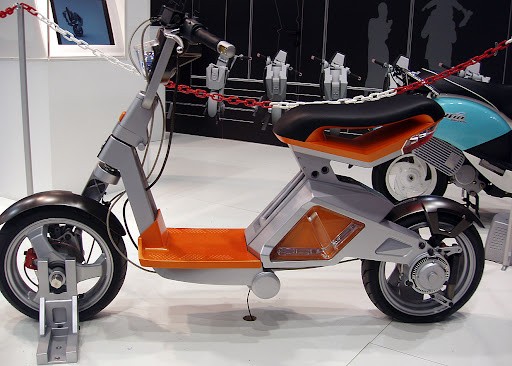 (Photo source:
ScooterInsight.it
)
Here's a news piece from an up-and-coming blog on Electric Vehicles called EVpulse.com. Yes, she's related. Now on to more great news from SYM! The foldaway electric Roboscooter, joint designed with MIT Media Lab and NEXT Consortium, is about to become more than a prototype. Check out this bit of background from CENS.com .

Motorcycle makers in Taiwan have been forced to brainstorm, besides relying on filling OEM orders in rosier times, to come up with creative ways to effectively compete in the increasingly harsh global arena, especially with players in emerging economies ready to reduce costs and margins to paper-thin levels. One recent example of the local makers` innovative attempt is the prototype RoboSooter, a compact and foldable electric scooter.

Three major participants in the joint RoboScooter project recently demonstrated the ingenious foldable scooter in Taiwan, after its global premier at EICMA 2007, the 65th International Bicycle and Motorcycle Exhibition in Milan, Italy.

The main backers of the RoboScooter include Sanyang Industry Co., Ltd. (SYM brand), the second-largest powered two-wheeler (PTW) maker in Taiwan; Industrial Technology Research Institute (ITRI) Creativity Laboratory, who aims to generate, evaluate, demonstrate ideas by tapping in-house mechanisms and intensive interactions with industry; and MIT Media Lab, a globally-famous research unit at the Massachusetts Institute of Technology devoted to integrating multimedia and technology.
Look for commercial production to begin Q3 2009! What's so good about the Roboscooter? I think this quote puts it best:

SYM president Huang said that his company, being given significant innovative input by joining NEXT Consortium, decided to design a personal transport ideally suited for increasingly crowded streets, parking lots, worsening pollution, and spiraling fuel prices. "The RoboScooter fits the bill: it is a personal urban transport," Huang said, "which is not only foldable, compact and electric but also an easy link between private and public transportation systems."
The goal for the production unit is to cut the gross weight down to 88lbs with a top speed of 31mph and a max distance of 37 miles… all for under $2000. BRING IT ON, SYM! Click on the CENS.com link above for more info and photos.
***UPDATE 9/12/08***


Special request image of the Roboscooter transformed into it's portable version. You know what would be cool? If you could ride the portable version like a Segway. Great is never good enough. Go HERE to see what they would look like on a roadside rental space.